10.8 Exhibition Theatre Keynote: Design-in-the-Cloud: Myth and Reality
Philippe Quinio, STMicroelectronics, France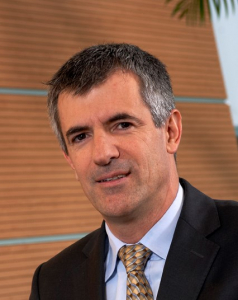 Abstract
The Cloud is promising orders of magnitude savings in time to market for integrated circuits, owing to CPU elasticity. However, practical limitations still mandate a selective approach to the product design flow and the business models have yet to be fully defined by vendors. The economic equation of designing in the cloud is challenging. In addition, design houses, IDMs and OEM customers have to decide to what extent they want to rely on Cloud service providers to maintain the confidentiality of their IP or SOC databases and honor export control requirements, in a context where such concerns are increasingly relevant in EDA vendor and IC supplier selection. This keynote will explore those topics based on ST's own experience and trials.
Bio
After an initial career in R&D in Japan, Philippe worked for a major US consulting firm in Europe & South America. He joined ST in 1995 in a Strategic Planning role. He then led the strategic marketing activities of ST's Consumer Group till 2002, when he became Marketing Director for ST's Imaging Division. In 2007, he moved to Corporate Finance, where he led several M&A projects.
Since 2010, he heads the IP Sourcing & Strategy team, owns the IP/technology Make vs Buy process, performs technology intelligence and oversees all IP/technology in-licensing for ST's businesses. More recently, this was expanded to cover EDA Strategy and Sourcing, where he chairs a company-wide EDA governance forum.
Philippe was born in Versailles, France, in 1965 and graduated in Telecommunications Engineering from TelecomParis school in 1987. He also holds an MBA from INSEAD and is a Certified Licensing Professional (CLP™).