European Projects
DATE 2020 program will include one or more sessions dedicated to European Projects addressing the DATE 2020 topics. This "umbrella" term includes:
EU-funded Projects

H2020
ECSEL, PENTA, …
European Innovative Training Networks (ITN)
COST Actions

Local (Regional) Research Projects
Projects funded by the European Space Agency
Research projects funded by industry
The Proceedings of DATE 2020 will include the papers corresponding to the European Projects sessions.
Project Coordinators are invited to submit a paper up to six pages in one of the following categories (to be clearly identified in the title or abstract of the paper):
preliminary project ideas,
work in progress in the project or
lessons learned from the project;
Papers will be peer-reviewed and selected based on innovation and originality; in particular, we would like to give visibility to papers addressing DATE 2020 topics.
European Projects papers should be submitted before 20 October 2019 23:59:59 CET. Submissions need to be made on-line via the following URL:
https://www.softconf.com/date20/conference
via the DATE 2020 website.
TPC members
Tullio Vardanega, University of Padova
Dimitris Gizopoulos, University of Athens
Rizos Sakellariou, University of Manchester
Maria Michael, University of Cyprus
Ramon Beivide, University of Cantabria
For more information, please contact:
European Projects Chair
Francisco Cazorla, BSC, ES
european-projects

date-conference [dot] com (european-projects[at]date-conference[dot]com)
For meeting room reservations, please contact the DATE 2020 Conference Organization (see below).
DATE 2020 offers a good value booth package to European Projects/Clusters who wish to show their work and results during the DATE 2020 exhibition.
Private cubicle
Wall panels, on 2 sides
1 table & 2 chairs
Name sign
1 kW electricity connection
Access to shared meeting space
Terms and Conditions apply. Please contact the Exhibition Manager for more details.
Total cost: EUR 2,000 (All costs are collected from the DATE Conference Organization K.I.T. Group on behalf of the Conference Host, EDAA, without VAT.)
Exhibition Stand Contact:
Conference Organization - Exhibition and Sponsorship
Kathleen Schäfer, K.I.T. Group GmbH Dresden, DE
date

kitdresden [dot] de (date[at]kitdresden[dot]de)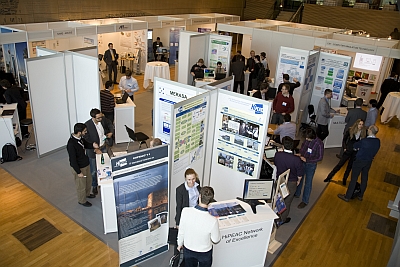 European Projects at DATE, Dresden
Please see the below list of DATE 2020 European Projects:
| Company Name | Booth | Company Logo |
| --- | --- | --- |
| CLEARSY | EP 4 | |
| MegaM@Rt2 | EP 2 | |
| TETRAMAX | EP 1 | |
| MNEMOSENE | EP 5 | |
| HiPEAC - European Network on High Performance and Embedded Architecture and Compilation | EP 1 | |
| EUROPRACTICE | EP 3 | |
| Eurolab4HPC | EP 1 | |